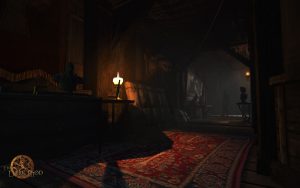 After a lengthy public beta phase, we are proud to announce the release of The Dark Mod 2.06!
The Dark Mod has undergone a lot of reorganization under the hood. A substantial amount of work was done to improve rendering performance and overall framework tech. Legacy OpenGL methods have been replaced with their equivalents in modern OpenGL. This is also the first TDM release to offer a native 64-bit build.
A full changelog can be viewed here, but some highlights include:
Better Visuals: Duzenko and Stgatilov have implemented a Soft Shadows option that finally removes the sharp edges of TDM shadows. This has a huge impact on the visuals of TDM missions. This option is currently labelled "Experimental" in the menu as we have had reports of issues on certain hardware. See here if you are experiencing flickering or other problems.
Better Sound: EFX audio now allows users without Creative hardware to enable EAX in the menu—a feature that processes reverb data and changes sounds based on the surrounding environment. Currently, only a few maps, like Volta 2: Cauldron of the Gods, by Kingsal, are set up to use EAX effects, but since all users can now benefit from it, mappers are encouraged to use this feature going forward. Interested mappers should see here.
Better Menus: The TDM menus have also been given a visual update, boosting the resolution and adjusting the graphics for widescreen monitors. Durandall has added scrollbar functionality to the mission menus, and Obsttorte has implemented a new menu option that allows users to customize the size and opacity of HUD elements, complete with a visual preview.
New Assets: A new set of Springheel's architectural modules is included in this release–a set of 50 models for creating church interiors. A number of new models have been added to other sets. Also included is a huge number of new prefabs, allowing mappers to quickly and easily create detailed map sections, as demonstrated in Springheel's Speedbuild series.
Better Mission Intros: This is the first TDM release to offer video codec support other than ROQ. TDM 2.06 allows for FFMPEG video support, which means that mappers will now have an easier time adding video briefings to their missions.
Better Gameplay: An error that kept food from restoring health has been fixed, and all food will now restore a certain amount of health when eaten. Guards can now sleep and wake up while seated.
Better Performance: Finally, experimental multi-core support is included for the first time, via patches from Cabalistic's VR branch. While this can cause performance enhancements, it is currently in "Experimental" form as some users may experience random crashes with this option enabled. Uncapped FPS is also now an option for users after this update.
To update, simply run the tdm_update.exe file in your darkmod folder. Please be aware that old saved games will not be compatible with 2.06, so finish any missions you might be in the middle of first!