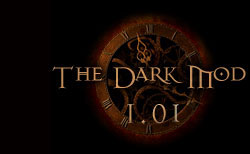 At long last, the TDM 1.01 update is ready for download! This is a BIG update, that adds dozens of new assets for mappers (including 6 new AI types, new models, and new ambient tracks), as well as fixing numerous bugs. New features for players, like a crouch indicator and combat difficulty levels, have also been added. We've also responded to the many player requests to reduce the volume of the player footsteps. See the full list of changes here. There should be something for everyone.
To get the update, just run your tdm_update.exe file. For more details, see here.
Note: While 1.00 missions are fully compatible with 1.01, you can NOT load 1.00 saved games after updating to 1.01. If you're in the middle of playing a mission, you might want to finish it before updating.
In other good news, DarkRadiant 1.2.0 is ready for download as well. Check out the cool readable editor! Grab it at: http://darkradiant.sourceforge.net/